Barmera
Pelican Point Resort is located near Barmera, on The Sturt Highway, South Australia. A town of approximately 4,000 people, around 220 Kilometers from Adelaide and 1 hour from the Barossa Valley. To the north east, Mildura is 2 hours away and to the west about 2 hours drive is Clare and the Clare Valley. A few kilometers to the north is another road referred to as the Perth to Sydney Road.
Barmera has two large supermarkets, and the businesses are progressive and enthusiastic, maintaining a vital and positive image for the town.
The area has an average annual rainfall of 8.8 inches and is said to have 400 more sunshine hours (10 working weeks) per year than the Gold Coast. Average summer temperature is mid to high 30's and average winter temperature is mid to high teens.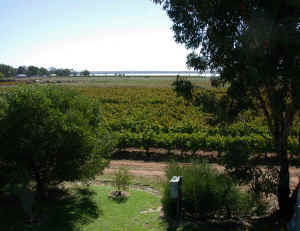 Lake Bonney is the jewel in the crown of Barmera, being approximately 4,000 acres and connected to the Murray River and it's sourounding wetlands by Chambers Creek. Lake Bonney was made famous by the late Sir Donald Campbell in his endeavours to break the world water speed record, some years ago.
Barmera is located in an area with a wide range of diverse agriculture. This includes one of the largest citrus producing areas in Australia, Vegetables such as pumpkin and potatoes and stone friut such as plums, apricots, peaches etc. Approximately 150,000 tons of grapes are crushed in the area for the purpose of wine production. Barmera is just one town in the area known as 'The Riverland' with a total population of approximately 35,000 people.