CH STRADIVARIUS
RENAISSANCE
(Imp. Canada)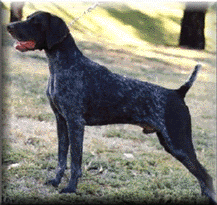 Creating history in his own lifetime!
Since his arrival in Australia in 1991, Ruben has
fulfilled our hopes and expectations of his
fabulous pedigree.
Graded excellent as a junior dog at the 1991 GSP
Specialty under Breed Warden Dr Albert Lemmer,
one of the foremost authorities on the breed
and then onto Runner Up In Show.
Although not used extensively, his litters have
produced a remarkably high number of quality and
well preformed offspring in each litter of note,
with valuable breed characteristics evident...
shortfirm back, proud carriage and strong sound
movement...plus a natural hunting ability of great
worth to rough shooters and competitive triallers.
Reuben's progeny have to dat been awarded more
than40 titles, 30 are bench Champions, 13 of these
are Group 1st winners, the remainder include a
Retrieving Trial Champion, a Dual (Obedience and
Show) Champion Obedience Non slip and Track titles.
He is a credit to his breeder in Canada, Jean Pierre
Turgeon.
Reuben is now #1 imported GSP Sire and equal #1 GSP
Sire in the country - with several newcomers due to hit the
ring soon.

Co-Owned by Valache, Sevoier and Durers Kennels.
Available at limited outside stud, enquiries by private treaty.